Calling Local Artists and Makers!
*** 10/31 We are no longer taking applicants for the 2019 Historic Shell Holiday Shop. If you have applied, expect an email from Alison ([email protected]) in the next couple of days. If you have any questions send an email. Thanks!
We're looking for talented local artists and craftspeople to feature in our fourth holiday shop at the Historic Shell Station in Downtown Issaquah: 232 Front St N. If you make great gifty goods we want to feature you!
This holiday shop is curated and run by Alison Lang of So, There (andsothere.com); and will focus on fun, unique, handmade gifts of all sorts. The shop will be open weekends, from Thanksgiving to New Year 2019 in beautiful, festive Downtown Issaquah.
No table or booth fees! No booth to tend! Chosen products will be sold on consignment, and artists will receive payment (minus commission) for sales following the shop's closure in December. Artists will be responsible for dropping off stock on November 24-25, and picking it up on Dec 31-Jan 1.
If you make it, we want to see it! We are looking for handmade: fashion accessories, jewelry, pillows, candles, textiles, home accessories, small furniture pieces, journals, stationery, books, office accessories, electronic gadgets, games, children's toys, and more! Original art pieces and locally designed items will also be considered– Please note, though, that hanging and displaying original pieces is extremely difficult in the space, which limits the kinds of pieces I can display.
---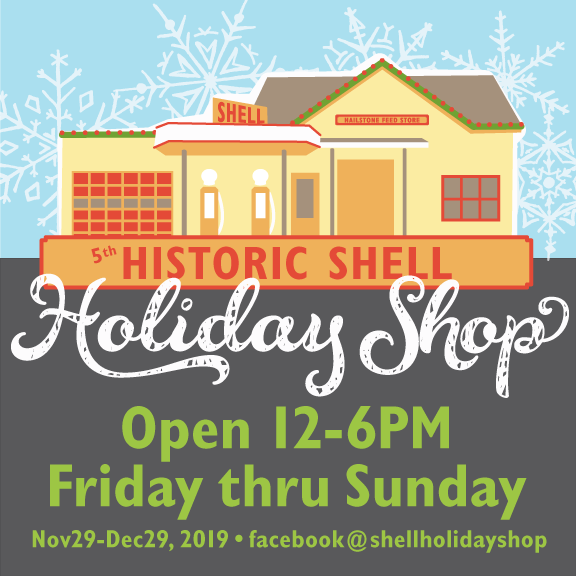 A few more important things
Artists must be able to drop off stock on November 24 or 25, and pick up on December 31st or January 1st.
Shop commission is 40% to cover insurance, display, processing fees, and venue. Artist will receive 60% of sales, via check or PayPal by January 30th, 2020.
Artists must affix a price tag and business name to each item (pencil prices are ok!) Special packaging or tags are welcome.
Priority will be given to early applicants and those that are very local to Issaquah.
If you have a display or furniture piece you love to use, and are willing to lend, let us know! (Pieces may be used for other artists.)
---
Join Us!
Please fill out our Google form below to be considered for the 2019 Holiday Shop. I will send a confirmation that I have received your application within 2 days. If you don't hear from me within 2 days, or have any problems with the application, please email me at [email protected]
2018 Featured Artists and Makers
Aline's Cardboard
A Tea Leaf
Beehive Creations
Britt Greenland
Childress Jewelry
Christine Stoll Designs
Coyote Moon Arts
Designs by Sharidor
Earth and Clay
Flux Ceramics
Frog & Fern
Glass Elements
Graceful Moon Studios
Heidi Rose Artworks
Jillian Born
Kalliomäki Designs
Kitten Mittens
la objeteria jewelry
Lexicon Collective
Lexi Sommer
Lisa Mueller
Little Kicking Bird
The Magpie's Nest
Mayhem Here
Moonflower Books & Cards
Moultonology
Mrs. Robinson's Affair
Nineteen: Twenty Six
OOliva
Rachel Beyer
RaincitySews
Scented Gypsy
Soul Remedy
So There
Starlight Glassworks
Susan Hass
Tomato Tomato
two squirrels and a nut
Uzura
Wicked Kitty Toys
Yardia
SaveSave
SaveSave
SaveSave
SaveSave
SaveSave
SaveSaveSaveSave